What Kind Of Floor Coating To Use
lefong.sg offers a comprehensive flooring solution, which is a complete flooring system with special floor preparation, multi-layers of floor protection and floor coating, as well as the final epoxy floor coating to provide a nice finishing and heavy-duty durable floor. Before we can answer what kind of floor coating to use, let us first understand the types of resinous industrial floor coating in the market. Epoxy and Polyurethane (PU) floor coating are the two most commonly used types of resinous floors. We first need to understand what the differences between these 2 types of floors are.
The below Mind Map on Floor Coating clearly distinguishes the difference between Epoxy and Polyurethane, as well as normal coating vs multi-layer flooring system. As illustrated by the chart below.
Epoxy Flooring vs Polyurethane Flooring
Operational differences that affect end-user
Polyurethane floors are harder, more durable, and have much higher compression strength than Epoxy. Therefore, Polyurethane is much more suitable for the logistic center and heavy forklift traffic. An epoxy floor is usually tougher, more elastic, and more resistant to scratching as its elasticity can absorb some of the impacts on the floor. This physical property is also preferred in cleanroom where to meet the GMP standard. Sometimes, these coating can also act as a waterproofing and crack-bridging layer.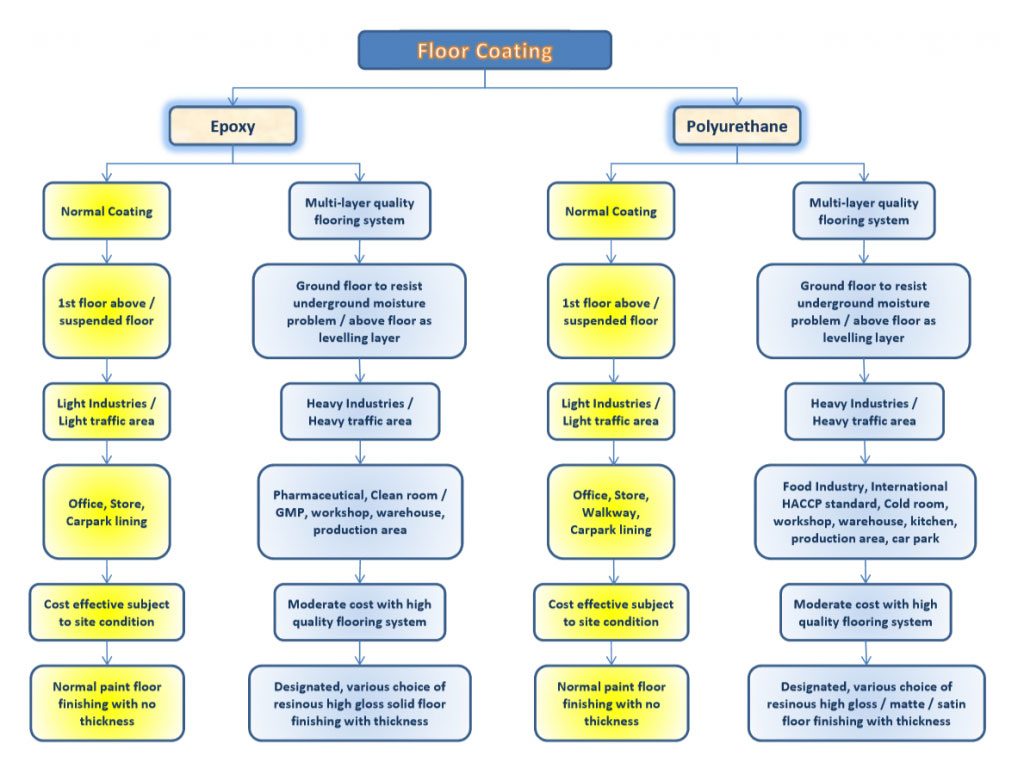 Besides that, Epoxy and PU will react differently due to different chemical reactions. For example, if Epoxy is used in food industries that are exposed to lactic acids, such as milk, dairy and cheese production, the floor may encounter corrosion and yellowing. Hence, PU is the much-preferred choice in such a situation.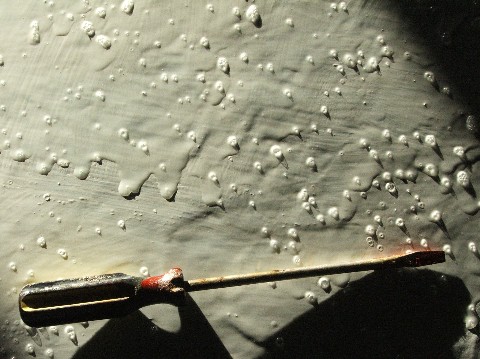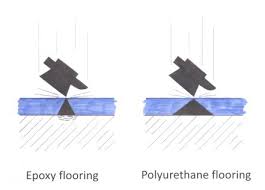 In addition, PU floors can be modified to limit or extend their pot life, re-coat time as well as the total curing time. This flexibility allows the contractor to complete the PU floors within a much shorter time. However, Epoxy floors are less flexible, especially when it needs more days to fully cure.
Epoxy floor resins are extremely sensitive to humidity. If an uncured Epoxy floor is affected by condensation of water, it might affect the Epoxy floor to have bubbles on the floor coating, and render your flooring work a failed project, which you need to redo. Although epoxy resins are sensitive to moisture, the damage affected by humidity will be more limited as compared to PU floor resins.
Conclusion
Therefore, due to the complexity involved in these 2 different types of resinous industrial floors, it is still highly recommended to engage a well-trained and experienced applicator. If these floors are done by inexperienced teams, if things go wrong, the amount of rework and rectification work is huge and may cost significantly more. Ultimately, your choice of the floor should depend on your needs of a multi-layer flooring system as well as what industrial needs you have.